5 Important Questions You Should Ask Yourself before Car Repair
When your car breaks down or is scheduled for maintenance, you have got two choices: pick a dealer garage or a local garage.
Independent repair service charges much less than a dealer garage—that is something everyone knows. Opinion, however, is divided on who delivers better customer satisfaction.
Well, according to a study, people who pick independent car repair shops report better satisfaction and pay significantly less than those car owners who opt for a dealer garage. However, there's a caveat here: It works only when you know or are able to locate a reliable auto repair shop and learn to effectively deal with the repair team.
To help you achieve this double goal, we have formulated 5 questions to put forward to a car repair team you have been using or are planning to use.
Do you service the car make I drive?
If you drive one of the more popular American brands, like Chevrolet, Ford, and other top GM brands, you probably don't need to ask this question. Almost every repair shop will work on these cars as well as probably Toyota and Honda.
German-made cars, however, may require specialized tools and knowledge, which not every repair shop is expected to have. A specialized repair shop may work on BMW, Audi, Mercedes-Benz, Volkswagen, and Mini cars. Ensure a repair shop works on your car before handing the car keys; otherwise you would be wasting your time—and maybe money, too.
Are you a licensed Auto Repair shop?
To find a good license repair shop in this case, do what most people do—a bit of research. A good starting point is your friends, whom you can ask for references, or consumer review websites. After you have shortlisted a name, check with the Better Business Bureau to ensure there is no complaint made against the provider. You can also check with the state attorney general's office for the same. Next call up the shop and inquire if the shop is a licensed and certified Auto Repair.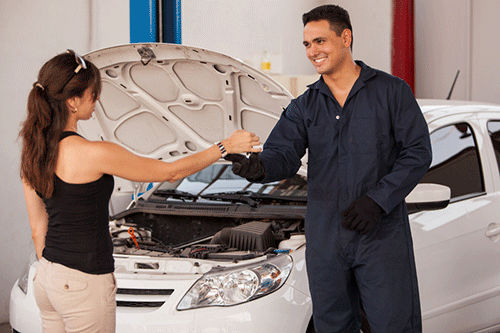 Do you provide a written cost estimate?
This is another important feature that you would want your auto mechanic services to have. In fact, some states require repair shops to provide written estimates to customers.
A written estimate helps obviate nasty surprises after completion of the job. Also ensure that the shop owner gives you assurance that he or a member of his team would call you in case the car requires additional work that will considerably stretch the total cost.
What kind of warranty you give?
All  qualified repair shops offer either a 12,000-mile or 12-month warranty. Ensure that the shop you select offer a warranty equal or similar to either. Don't waste your time on a shop that gives a warranty that is considerably less than 12,000 miles or 12-month warranty.
Always ask my car is showing [X symptom]. What could be it?
Don't tell the repair technician what is wrong with the car, even when you are hundred percent sure your diagnosis is correct. Instead, tell him the symptom. A busy technician may inadvertently get influenced by your diagnosis and fail to pay attention to other causes while check the car himself.
Opting for a dealership can be a good idea in certain situations, like when the original warranty is still in effect or when the brand is offering some good freebies such as free oil change.
Whether you opt for an independent repair shop or a dealer's, it is mighty important to follow the instructions regarding maintenance given in the owner's manual. Timely maintenance can help ensure smooth running of your car for a long, long time.
Auto Mechanic Services in Lake Forest is a family owned and operated automotive repair and tire shop that consistently strive to give our clients 5-star experience.